Relationship Problems

Marriage Counselling and Couple Counselling
Relationships are constantly changing. There are many highs, lows and lengthy periods in the middle. Even in strong partnerships there will be times when changes happen and you may hit rockier patches.
Relationship problems can be triggered by a multitude of issues. Sometimes major life events such as job loss or illness can cause significant personal and relationship stress which tests the partnership to breaking point.
Some relationships labour under the pressure of one partner suffering an addiction or substance abuse problem. Often sexual issues can create tension and due to the nature of the subject matter some people are reluctant to talk things through, leading to a breakdown in communication. Many r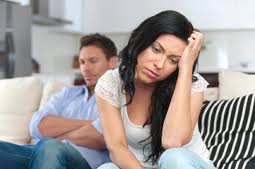 elationships struggle with infidelity or physical abuse.
The stress of managing money or children can slowly affect the health of a relationship; when you are too busy dealing with the pressures of everyday life it is sometimes easier to simply ignore the effects on your relationship.
If you think your relationship is in trouble then you are probably right. However, many issues and problems can be resolved and they don't have to mean separation or divorce. If you still have a connection, have been together for a long time or you have children, you may want to try and salvage a relationship rather than walk away. If this is the case our marriage counselling or couple counselling service can help.
Whatever is concerning you, the first step is to acknowledge the problem exists and then to understand the root cause of the problem before finding the tools, support and guidance to help you to cope and move forward positively.
Whatever your problem someone else has faced it as well.

Some Examples of relationship Problems
Coping with a new baby
How can we cope with the aftermath of
an affair?
We donít stop arguing. What can we do
I've discovered my partner is having an affair, what do I do?
Life/Work balance
My partner and I have a large age gap between us
My partner and I just don't seem to talk any more - it feels as if we've drifted apart
Self-esteem
The internet and our relationship
The menopause is affecting our relationship

Examples of Sex life Problems
I have difficulty reaching orgasm
I have problems getting an erection
I have problems with premature ejaculation
Sexual addiction
Stuck in a rut
The menopause is affecting our relationship, how do I talk to my partner?
We are a heterosexual couple, and have different levels of desire
We've stopped having sex
Fear of losing control of yourself & bodily functions
Fear of being inadequate
Fear of infection
Fear of becoming pregnant
Fear of intimacy
Fear of having abnormal genitals
MEN !!!!!
They donít talk about problems until itís too lateÖ.. They compensate with work, drink, affairs, porn, gambling, to name but a few. They donít communicate well. They have problems with sex. But never talk about it! If they would only take professional advice things could be so much better. It is so liberating and empowering once they start.
Call us today for more information or to arrange a counselling or psychotherapy session in central or North London or Elstree (covering Bushey, Radlett, Watford St Albans and the surrounding areas)